1921-1922 Morgan Silver Dollar and Peace Dollar Set – 2PC
Regular price
$0.00 USD
Sale price
$46.99 USD
Unit price
per
Sale
Sold out
Share
Two key dates coins together in a single set!
Don't miss your chance to secure an incredible "first and last" set with this 1921–1922-PDS Morgan & Peace Silver Dollar Two-Piece Set. These historic coins are getting harder to find every year, so grab yours now!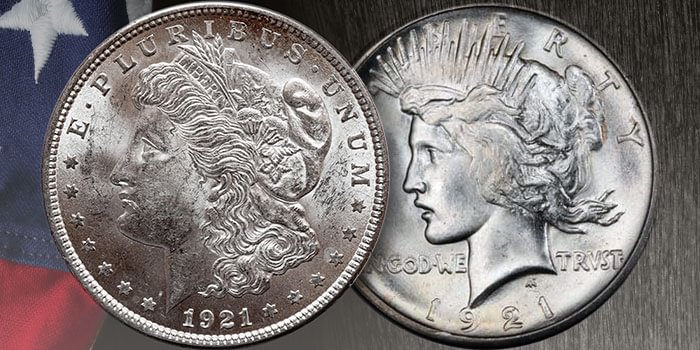 The end and the beginning: a classic Morgan and Peace Silver Dollar combination
The years 1921 and 1922 are critical ones for savvy silver collectors, as they marked the end and the beginning of two iconic coin series. Since the first Morgan Silver Dollars were minted in 1878, the series skyrocketed in popularity until they were paused in 1904. Then, in 1921, the last Morgan ever minted rolled off the floor of the Philadelphia Mint, and a new coin series was tested, the Peace Silver Dollar. While the initial "high relief" run of the 1921 Peace Dollar proved unworkable, the 1922 version got it right, and another brilliantly successful series began.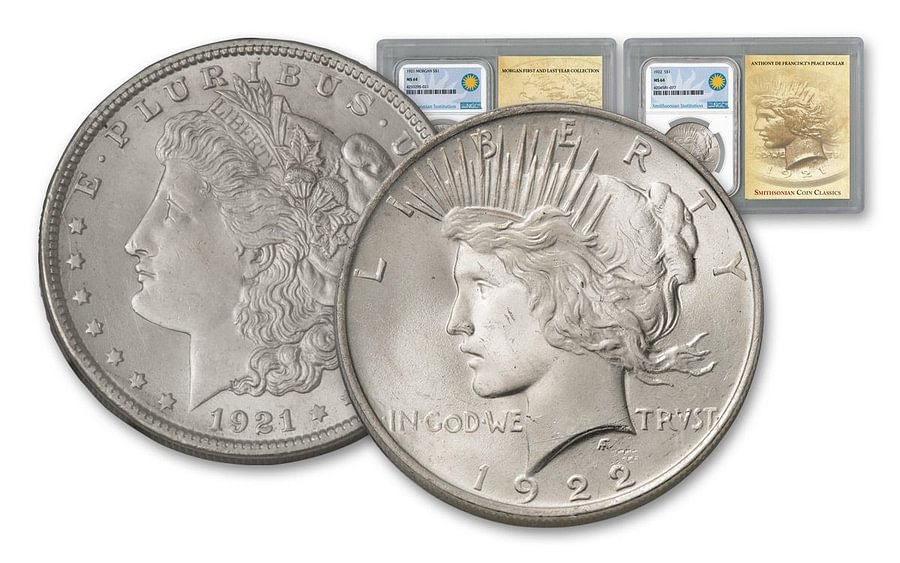 Today, US silver dollars have taken that popularity to a new level as these coins continue to be highly sought-after, especially key dates such as the first and last year of a coin series' mintage. Now you can get the best of both worlds with a special two-coin collection that features the 1921-P Morgan Silver Dollar and the 1922-P Peace Dollar. Add to that the fact that these coins have been hand selected by the Smithsonian Institute as part of their special SI Coin Classics series, and this is truly a set you do not want to miss.
The last Morgan and the first Peace Dollar
Two key dates, two 90% silver coins together in a single set!
They are two legendary coins with a lot in common. They're the last two 90% U.S. Silver Dollar series minted from ore found in Nevada's Comstock Lode. They were both struck at the "Mother Mint" in Philadelphia. And as vintage U.S. Silver Dollars, they're among the most collected coins in the entire world.
91 years since they first rolled off the presses, the 1921-P Morgan and the 1922-P Peace Dollar continue to be coveted key dates in U.S. Silver Dollar history. If you were to purchase these coins elsewhere, in Brilliant Uncirculated condition, you'd spend an additional $20! Hurry, these limited sets contain two of America's most popular Silver Dollars – they will not last!
Each two-piece set includes:
Coveted last year Morgan
Highly sought-after first year regular issue Peace Dollar
Both coins in Brilliant Uncirculated condition
Struck at the Philadelphia mint
Deluxe presentation case
Add this amazing brilliant uncirculated 1921 Morgan Silver Dollar and the 1922 Silver Peace Dollar set to your collection now!